Skrill Online Casinos - An E-Wallet Of Choice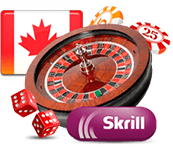 Quick approvals, easy transactions, low processing fees, and safe and secure banking. Those are just a few of the things we look for in online payment methods, particularly when it comes to online casino banking. However not many payment providers can deliver on all points, which makes finding one that does a tricky business. Luckily there's one third-party payment processor that's been in business since 2001, and in that time has learned how to check all the boxes on your list. Introducing Skrill! It's the e-wallet that's quick, easy, safe, affordable, and handles thousands of online casino purchases every day.
Originally known as Moneybookers, Skrill is still one of the best-known names in Internet casino banking, with one of the best reputations as well. So if you're looking for a payment method you can trust, look no further. Our Skrill online casinos will take care of all your banking needs efficiently and professionally. Just sign up today and enjoy complete peace of mind.